How great to be alive in the Christmas season, surrounded by holiday cheer and the people who care about you. Some of the things I love:
– Hot apple cider with cinnamon and cloves
– Cheery fires in the fireplace
– Big, fat, falling snowflakes
– Snowboarding (finally!)
– Slippers
– Christmas lights (especially the blue and white ones)
– Family and friends
Ok so I think I just made myself puke a little with my excessive schmaltz, but really I am a sucker for the holidays. On Sunday we had a Christmas party at our clubhouse. We had a metric ton of our friends there, and since it was a Thanksgiving/Christmas thing, we had turkey and stuffing and everything like that. Scrumptious. At the end of the evening we did a White Elephant gift exchange, and I have to say, Sarah and I really outdid ourselves. We brought a singing Santa, a horrendous ceramic Strawberry-Shortcake-esque monstrosity, a book containing everything you ever wanted to know about the band Hanson, a second-hand Awesome Blossom™ maker, and a Windows 95 for Dummies book. How happy we made some of our friends!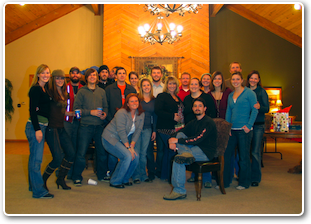 Then last night our church had an event at a nursing home where everyone gave some gifts to a resident or two. We brought a blanket for a woman and some sweatpants and socks for an old guy. How sad that that's what he asked for! I hope they keep him warm. We picked him because his name was Tex Payne. I wish I had an infamous comic book name like that! The night ended with some of our friends leading everyone in some Christmas songs. Good times.
Well I hope you all get a chance to get close to your near and dear ones in the next few weeks. And don't let the hustle and bustle crowd out Christ who is born into our hearts!

Listening to "Get Behind Me, Santa!"
from the album Songs For Christmas, Vol. V: Peace
by Sufjan Stevens