So the first week of tour has come and gone. It's been great! I've been looking forward to touring with the Switchfoot guys for a while now. Let me tell you, those guys are the real deal. And yesterday I got to play poker with Brett from Ruth and boy were we… uh… ok, I was going to write "ruthless with him". I admit it. I also got to play a show in my hometown already. I always really look forward to and dread those shows. It's amazing to get to hang out with all my family and friends, but my attention is pulled every which way and the conversations are cursory. I always feel very stretched. But it's good nonetheless.
I've already gotten to meet a lot of nice people on the road so far. I've meant to put up this picture (it was taken on our spring tour with Sherwood and Mae), but until now I hadn't gotten around to it. Thanks Fabiola for sending it in!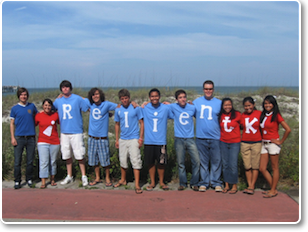 I look forward to seeing more smiling faces :) See you soon!