Good gosh it's been a while since I've updated this thing. Where to start? Well the last thing I wrote had something to do with missing the wife and the bed and all, if I'm not mistaken. Pretty sure I came off real whiny.
The band ended up spending about two months in LA for our latest record. The first half we spent rehearsing and refining the songs. It was a grueling process that involved gallons of coffee, dimly-lit rehearsal spaces, and plenty of big chess as a respite.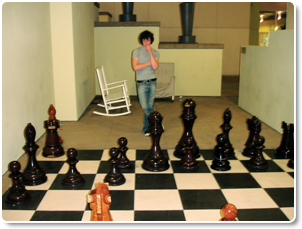 When it came time to put down those finely-honed songs onto tape (or the ProTools equivalent) we did so with a vigor and avidity unmatched by some of our peers. It ended up turning out pretty good, if I do say so myself.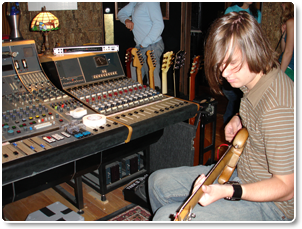 Sarah decided it would be a fine idea to steal me from the studio between takes to make an excursion to the beach. We ended up taking a mini road trip with Sarah's sister and her friend. Camping just north of Malibu, we narrowly dodged Mel Gibson's drunken rants and the surf hipsters in his wake.
After recording I got to go home for a day or two to spend some time with my wife and kitten. I was all tuckered out.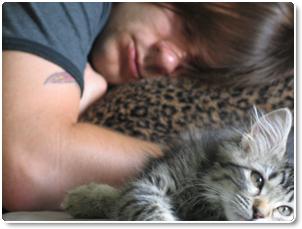 Cat-naps are all well and good, but they can't match the allure of fishing on open water in a leaky aluminum boat with mosquitos on your legs and wives who like you to bait the hook. With that in mind I took Sarah to Minnesota to spend some time with our families "up North" at "the cabin". With the Yasgers we mainly enjoyed water sports.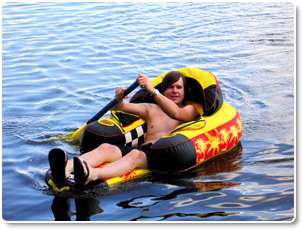 With the Warnes we mainly enjoyed eating food.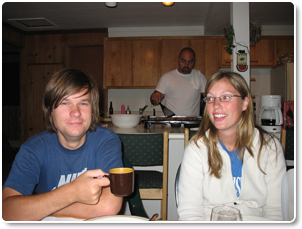 My brother mainly enjoyed being the "crazy scary uncle".
[quicktime]https://blog.johnwarne.com/wp-content/uploads/sites/2/2007/05/dave-n-grace.mov[/quicktime]
Having said goodbye to the loved ones we came back to Colorado to say hello to the mountains. If you didn't know this about us, it's worth noting that as a couple we love doing high-altitude Pilates. We find that it helps to strengthen the core of our relationship.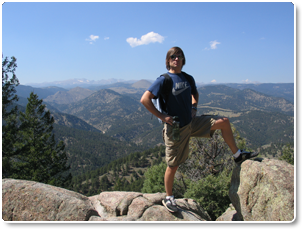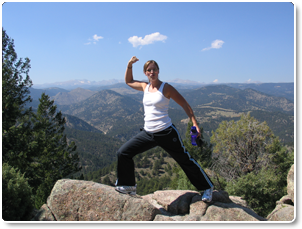 This fall before I left to go on tour Sarah and I decided to be huge dorks (or rather, continue in said dorkiness) by going on a corn maze. With the help of mini-donuts and some trusty flashlights, we wound our way through the maze with the incentive of getting more mini-donuts at the end. We left after the giggling teenagers took over but before the scarecrows jumped out at them, driving the pretendingly-scared girls into the boys' arms.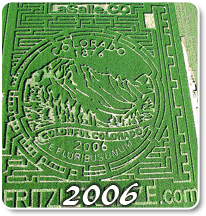 After we found our way out of the corn maze I left to go on tour for the Fall. RK went out with a bunch of bands on the Nintendo Fusion Tour. On the first day they let us play the new Wii system and then gave us Nintendo DS Lites with Mario Kart and New Super Mario Bros. Happiness ensued. In Mario Kart there is this feature where you can play wirelessly with up to eight people. We had to make do with six, but boy howdy was it a good time. Dartanion forever!
Sarah's and my first anniversary came and went, she with her girls group and I with my guys poker group. The guys didn't even let me win :(
The Nintendo game over, Sarah and I were hungry and so decided to invite ourselves over to our friends' place for our version of Thanksgiving: Peepsgiving. It was one of three Thanksgiving dinners we attended this year. With a little hard work I think we can get it up to five next year.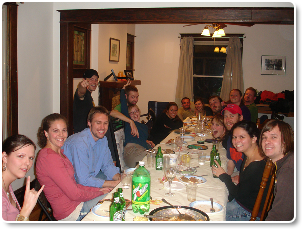 After we were properly filled and sedated from all that turkey, Sarah's brother Phil came out to visit us. We partied quite heartily on our day-trip sojourn in the Garden of the Gods. I think my favorite was Hanging Rock. It looked like a trick God did, like the one where you put a little salt on the table, balance the salt-shaker, then blow the rest of the salt away. But I haven't quite figured out how He did this one yet.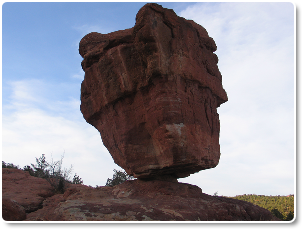 A few weeks passed peacefully before the grindstone started to miss my nose. The band reconvened in LA where we did a photoshoot and the taping of an acoustic performance. We got to record in one of Capitol's studios which still smelled of Nat King Cole.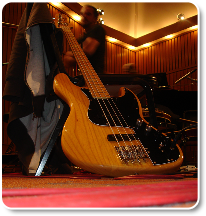 One flight later I was back in Colorado with weeks of mountainy marital bliss in front of me. Sarah and I spent some of that bliss atop Copper Mountain and our snowboards. The day we went ended up being snowy with huge, lazy flakes making the trails all powdery. It was beautiful.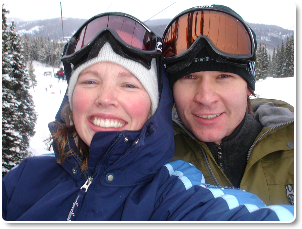 Now we're looking forward to going back to Minnesota for the holidays. Hopefully it'll be cold and blustery and maybe even the wintry salt will stain our pant legs! One can only hope.